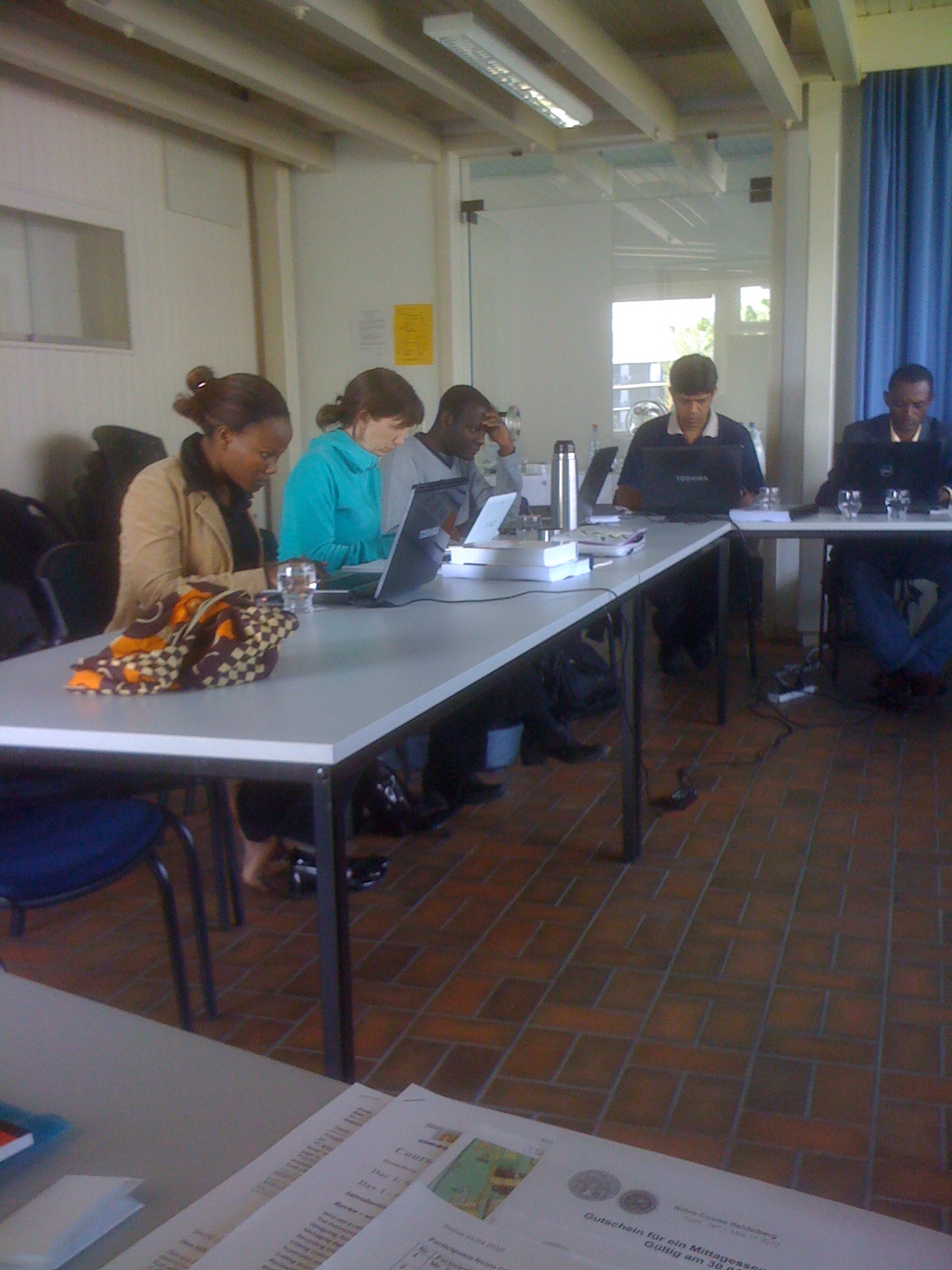 QUALMAT –Executive Summary
QUALMAT is a collaborative health care intervention research project aimed at improving pre-natal and maternity care in sub Saharan Africa in the context of quality deficiencies at the point of service delivery due to low staff motivation. The project is being co-ordinated by Professor Rainer Sauerborn of the Institute of Public Health, University Hospital, Heidelberg. The Department of Internal Medicine VI is also involved in the project. There are five additional partners participating in this EU funded research/intervention project based in Belgium, Burkina Faso, Ghana, Sweden and Tanzania.
This research led intervention will be delivered by means of 9 'work packages' which comprise the following components:
1.       Project management
2.       Policy analysis
3.       Quality assessment
4.       Economic evaluation
5.       Provider motivation
6.       Performance based incentives
7.       Clinical decision support system development (software developed in Heidelberg University to deliver key information to guide service providers through the whole care delivery process),
8.       Intervention implementation and
9.       Dissemination and feedback
Dr. Svetla Loukanova, MD, MHM, PhD (University of Heidelberg) is the QUALMAT  project manager. To facilitate the work of the researchers in several workpackages, but particularly those of Work Package 5, Dr. Loukanova requested   qdatraining.eu to run a workshop in Heidelberg to work intensively with the indigenous researchers chosen from the aforementioned countries who will be conducting the qualitative research into health worker motivation. Both quantitative and qualitative research methods will be deployed within Work Package 5.  The initial, key study that has been designed to generate a greater understanding of motivation and the incentives that health workers would prefer is of a purely qualitative nature. Experienced researchers from Burkina Faso, Tanzania and Ghana all attended the workshop.
Integrated Database – a victory for rigour
The workshop ran over six days and was also attended by some PhD students from Heidelberg University. including Helen Prytherch who will use this data as part of her PhD into health provider motivation and will be the database administrator for the central database in Germany. All of the chosen researchers were experienced in qualitative methodologies and had good computer skills as well as excellent English which greatly assisted in generating a brusque although good humoured working atmosphere.  Participants quickly got to grips with the NVivo technology and were enthusiastic about using a database specifically designed for purpose in qualitative research. The idea of working as a group in Heidelberg differentiated our previous African experience with the  Centre for Global Health (CGH), Trinity College, Dublin, in one very important way.
When we worked with CGH in Tanzania, Malawi and Mozambique, we worked in-country travelling to each location to conduct the training. Pulling the entire team together in one place for six days made three significant differences to the training. These differences were:
 

The research teams got to know each other and formed a great rapport during  the intensive six day programme developing a real sense of responsibility and commitment to each other and to the project generally
 

Through training as a unit, they could see the benefits of having an inter-country database which could integrate after each country has completed its own report thereby addressing a more macro or pan African view of common issues facing health care workers' motivation in delivering maternal and neonatal care in developing countries.
 

Synergies between the work packages were explained. As a result, everyone freely agreed to work within a strict discipline to keep the project on track and deliver the needed results.
We believe that the QUALMAT study will lead the field in producing an integrated qualitative database (cross tabulating outputs from the quantitative databases such as STATA or SPSS as well as merging all three countries qualitative data) which will offer social scientists and other academic disciplines a unique opportunity to interrogate this rich data in a way never before achieved in our experience of working within research partnerships in Africa.
We are very excited about the QUALMAT project and see it very much in the pioneering realm. We look forward to supporting the researchers as they analyse the data. The participants who took part in the in-depth workshops are tabulated below:
---
| | | |
| --- | --- | --- |
| Participants | Country | Course |
| | Ghana | Basic and advanced |
| Mrs. Gifty Apiung | Ghana | Basic and advanced |
| Helen Prytherch | Heidelberg | Basic |
| Dr. Maurice Ye | Burkina Faso | Basic and advanced |
| Kagoné Moubassira | Burkina Faso | Basic and advanced |
| Dr. Deodatus Conatus Vitalis Kakoko | Tanzania | Basic and advanced |
| Ms. Happiness Saronga | Tanzania | Basic and advanced |
| | Heidelberg | Basic and advanced |
| Shafiu Mohammed | Heidelberg | Basic and advanced |
| Germain Savadogo | Burkina Faso | Basic and advanced |
| Aurelia Soares | Heidelberg | Advanced |
| Divya Parmar | Heidelberg | Advanced |
| Ahmad Azam Malik | Heidelberg | Advanced |
| Shelby Yamamoto | Heidelberg | Advanced |